4 who is lying to whom stars!?!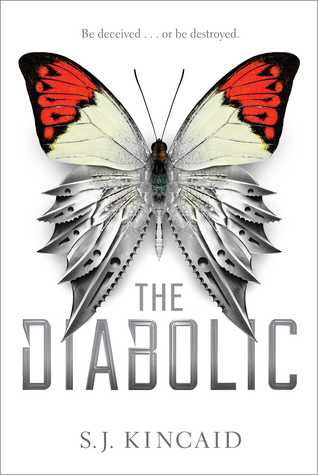 I am not going to lie this was a super highly anticipated read by me.  So anticipated that I ordered the annotated by the author version from Quarterly Company.  I really enjoyed all of the author's notes while reading the book.  However the beginning had me putting it down a lot… I could barely keep my eyes awake while reading.
Then… that plot twist happened, the one that changed EVERYTHING!!!!
I have never been more excited in my life for a plot twist. I'm pretty sure I mumbled the words "Oh hot damn" under my breath because you know I have little ears around my house 😀
This book is about a Diabolic named Nemesis.  What is a Diabolic you ask (or didn't ask?), it is a humanoid, modified life form bonded to one person to protect them at all costs.  Obviously she is superior to humans in strength, resistance to toxins, and a faster reaction time. Nemesis has been bonded with Sidonia to protect her at all costs.  However this protection seems to have come with flaw as the emperor has requested/demanded Donia's presence at his "Castle".  Since it is obviously a trap, Nemesis will go in her place to protect Donia at all costs.  When nemesis gets to court she gets more than she bargained for because the political plots run deep here.  Can she pass herself off as a human long enough to save Donia?
The plot in this book was a bit slow in the beginning, but I beg of you if you read this book, please, please continue onward. This is so heavy on the political intrigue, some you will see coming and some you will definitely not see coming.  I really enjoyed how S.J. Kincaid did some world building but let some up to your imagination.  This book is not heavy handed on brutal killings, however when the killings happen be ready to go WHAT IN THE EVER LOVING HELL JUST HAPPENED??? I loved the thought of so many hands stirring the pot but no one knowing exactly who was doing what.
The characters… ahhh the characters.  The Diabolic who has no feelings but starts to get feelings and has no idea what to do with them. She is only programmed to have feelings for Sidonia, but yet at moments shows somewhat human traits.  Nemesis is a lethal hard working machine.  She is always calculating the risk to Sidonia's life and how best to protect her.  I really enjoyed her character growth throughout the book and how she struggled with who she was becoming.
Tyrus who may actually truly be crazy and not just acting.  He has to be off his rocker just a little bit to have grown up in the family he did but geez.  Some of the beginning parts with him were insane.  Then once you begin to see what he is really like my heart started melting just a wee bit for him. His plotting and conniving may be a little deeper than any one else in the book. I kind of wish he would've shared more with everyone else in his inner circle but from the plot stand point of the book I get it.
Goodreads link here.
book blurb..
Hardcover, 416 pages
Published November 1st 2016 by Simon & Schuster Books for Young Readers
For Nemesis, that person is Sidonia, heir to the galactic Senate. The two grew up side by side, and there's no one Nemesis wouldn't kill to keep her safe. But when the power-mad Emperor summons Sidonia to the Imperial Court as a hostage, there is only one way for Nemesis to protect Sidonia.
She must become her.
Now one of the galaxy's most dangerous weapons is masquerading in a world of corrupt politicians and two-faced Senators' children, and Nemesis must find within herself the one thing she's been told she doesn't have—humanity. With the Empire beginning to fracture and rebellion looming, that could be the one thing that saves her and the Empire itself