4 to tempting to be true stars!!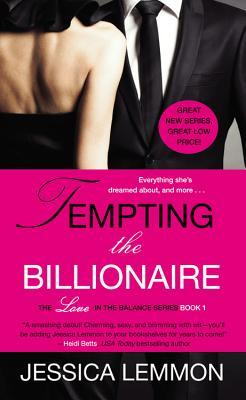 Paperback, 352 pages
Published November 19th 2013 by Forever (first published January 1st 2013)
First off this was a buddy read with the every lovely Deanna 
@ANovelGlimpse
 , we had decided since we had a mutual love of all things Jessica Lemmon to go backwards and read one of her first novels.
This story revolves around Crickitt and Shane.  Crickitt is in a rut with her life, her husband has left, she left her successful job and is trying to change.  Of course things never go according to plan.  Crickitt's life seems to be turning around after she runs into Shane and she becomes his personal assistant.  You can see that Crickitt having such an internal struggle.  She is trying to match the strong external person with the weak internal person. Crickitt comes off in business as such a smart person but personally she is really unsure about herself.  As a person who likes to read strong female characters this lack of backbone didn't sit well with me.  In future Jessica Lemmon books all of her heroines are very strong and independant.  So I'm not sure if this is because it's an earlier book or just this character?  I adored Crickitt's friendship with her BFF. Jessica Lemmon it seems has always been good at creating great friend relationships whether it be between the main females, males, or female/male friendship.
Shane on the other hand was so stuck on the fact that he could not love someone, that he didn't realize he already loved someone.  Shane is one of those guys that just loved to help other people out, it is the basis of his company. They go in to other companies and help set them up to succeed.  I really loved that he saw the potential in Crickitt from the start, it was kind of awkward but I'm glad they gave each other a chance. Shane thinks that if he loves someone they will eventually leave him and he can't stand the pain from them leaving him.  So the whole book his angst and pain is palpable.  All of Shane's torment in this book seems to be more mental. He doesn't seem to like to share his feelings with the class which I guess is okay for a macho man, but also kind of got on my nerves a little wee bit.
I think because I am so used to Jessica Lemmon's amazing evolved now works of art that going backwards was a little hard for me.  Was this a good HEA, yes of course it was it had the right amount of angst, and romance.  However the characters just seemed to be lacking the connection for me.  Her characters now have the angst and the romance, but they also have the connection.  Jessica's female and male characters for that matter have backbone, they stand up for what they believe in.  She will always be a go to author for me this didn't deter me in any way!!    Once a Jessica Lemmon fan ALWAYS a Jessica Lemmon fan!!