3 I needed more action less description stars!!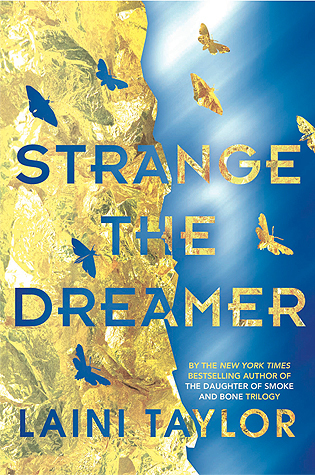 The dream chooses the dreamer, not the other way around—and Lazlo Strange, war orphan and junior librarian, has always feared that his dream chose poorly. Since he was five years old he's been obsessed with the mythic lost city of Weep, but it would take someone bolder than he to cross half the world in search of it. Then a stunning opportunity presents itself, in the person of a hero called the Godslayer and a band of legendary warriors, and he has to seize his chance or lose his dream forever.
What happened in Weep two hundred years ago to cut it off from the rest of the world? What exactly did the Godslayer slay that went by the name of god? And what is the mysterious problem he now seeks help in solving?
The answers await in Weep, but so do more mysteries—including the blue-skinned goddess who appears in Lazlo's dreams. How did he dream her before he knew she existed? And if all the gods are dead, why does she seem so real?
Welcome to Weep
<Goodreads>   <Barnes & Noble>  <Amazon>
This book was a buddy read with the ever so lovely and talented Danielle @ Books, Vertigo & Tea… If you haven't checked her out I highly suggest you do!  She is an amazing blogger and a really good friend of mine who I con into buddy reading books with me 😀 This time instead of just discussing the good bad and ugly of the book privately with one another and linking each other's reviews we decided to ask each other questions and post them 😀  ( My answer may contain spoilers for those who have not yet read the book… so proceed with caution!!!)
My Questions to Danielle!!
1.
Which character was your favorite and why?
This is easily and undoubtedly Lazlo. He was not only likable, but the only character I felt was given enough depth. The most enjoyable aspect of Strange the Dreamer for myself was Lazlo's growth and evolution.
2.
If you could have one "Godly" power what would it be??
I think I would actually pass. Yes, that is an honest answer. The pressure and burden that comes with having any form of super power has to be incredibly heavy. I am not sure that I would be the best candidate for that much responsibility and obligation.
3.
Did you like the flow of the writing style in this book?
The writing style was very much what I expected based on my previous encounter with the Laini's work. It was fluid and elegant, but at times overly descriptive. I am not sure that I loved it, but I certainly found an appreciation for several aspects of it and can understand how she has developed a solid following within the book community.
4.
After reading this book are you tempted to pick up a Laini Taylor book again?
Okay, this is the answer that will make some cringe or scowl at me, but long version short: not right now. The story telling is almost a bit too rich for my tastes. I found that certain scenes drug on for pages,yet I realized that so little was happening. Maybe a fair statement is that it is slower than I prefer right now. But I am not writing her books off completely.
5.
If you saw Strange the Dreamer in the store would you be tempted to pick it up based on the cover??
I would be tempted, but would not because I have learned my lesson on those impulsive cover buys. But it would draw me in enough to read the synopsis. And that was effective in hooking me. So mission accomplished with cover!
Danielle's Questions to Me!!
1.

      
Describe your personal experience with Strange the Dreamer please.
Frustrated… I think that is my personal experience.  I wanted to like it, there were times that I thought the book it would redeem itself and it didn't. ugh just frustrusted…
2.

      
How well do you feel like you connected with the characters and why?
I really only felt connected to Lazlo aka Strange through most of the book since he is our main character.  He was really personable throughout the whole book with his shyness, yet his wanting to fit in with everyone.  Lazlo had such an old soul about him that you just wanted to bring him home with you and keep him forever.  Towards the end I started feeling more of a connection with other characters but it wasn't like the connection I had with him.
3.

      
Can you describe the author's writing in this particular book?
Very slow, I was expecting that though seeing how in her previous series it was also very slow.  Nothing really ever happens… until it does.  It's really hard to explain unless you have read the book.  I 'm more of a person who likes to get the information as things are happening.  Laini Taylor likes to just write information, and more information and more information.  This makes the book a little too slow for my taste.
4.

      
Was there one specific aspect of the book that you really did or did not enjoy?
Fair warning spoilers ahead… The dream scenes. I loved the vividness of the dream scenes.  How they could change them how they wanted them on a whim. Wouldn't it be amazing to take a nightmare and turn it into a lightening bug in a jar?  Or take your favorite book and just go there in your sleep?  I thought that was an amazing idea.  Of course otherwise it wouldn't be titled "Strange the Dreamer"
5.

Did you find the conclusion to be satisfying and will you read the next book?
No the conclusion wasn't satisfying .. again spoilers.  I wanted that crazy little witch to die.  Of course she didn't, it had to be the other one
L
  How horrible?!?!?!?! All the action happened at the end and it ended on a sort of cliffhanger I guess.  I don't know if I'll read the next book I just feel really frustrated toward the whole experience.
My Thoughts and Opinions 
I am not going to lie.. I wanted to love this one. I tried I really tried, you can ask Danielle.  It took me almost a month to read this book!  Not because it is a tome of a book, but because it nearly bored me to death with all of it's detail 😦  I promise this won't be a rant about how much I hated this book, it did have it's redeeming qualities.  However like with Shadow and Bone I needed more action and less description.  I felt like I was always waiting, and waiting for something, anything to happen.  I feel that is the biggest downfall for this book and my connection to it.  I think that may be my downfall with Laini Taylor's writing, it may just never be for me.
The characters were the main reason for me sticking with this book.  Especially Lazlo, he was my favorite character.  Over the course of the book the only chapters I looked forward too were the ones featuring Lazlo.  His character actually developed throughout the story.  Some of the characters actually stalled for me and didn't go anywhere, I'm sure they will have more to do in the next book.  I don't want to give out to many spoilers but there was one other main character you meet a little further in the book that does develop and grow through out the book.
I realize that this is a beloved book by many and it just wasn't for me per say.  This author is also very well loved by many.  I just don't think that either is meant for me.  Did you have a different experience with  this book?  Or did you feel likewise??  I would love to hear your thoughts below!