5 let's hear it for strong YA female character Stars!!!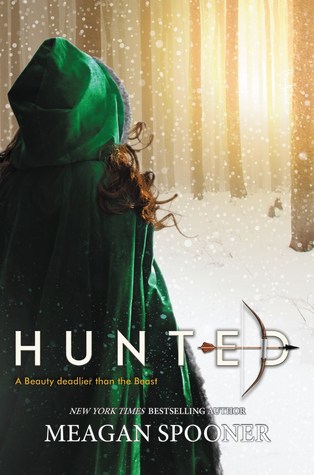 Hardcover, 374 pages
Published March 14th 2017 by HarperTeen
Beauty knows the Beast's forest in her bones—and in her blood. Though she grew up with the city's highest aristocrats, far from her father's old lodge, she knows that the forest holds secrets and that her father is the only hunter who's ever come close to discovering them.
So when her father loses his fortune and moves Yeva and her sisters back to the outskirts of town, Yeva is secretly relieved. Out in the wilderness, there's no pressure to make idle chatter with vapid baronessas…or to submit to marrying a wealthy gentleman. But Yeva's father's misfortune may have cost him his mind, and when he goes missing in the woods, Yeva sets her sights on one prey: the creature he'd been obsessively tracking just before his disappearance.
Deaf to her sisters' protests, Yeva hunts this strange Beast back into his own territory—a cursed valley, a ruined castle, and a world of creatures that Yeva's only heard about in fairy tales. A world that can bring her ruin or salvation. Who will survive: the Beauty, or the Beast?
<Goodreads>    <Amazon>   <Barnes & Noble>
My thoughts…
Oh my guys, I finished this book in one sitting!! Matter of fact Mr. Tough Guy even looked at me and went "Uh you know it's 11:30pm right??" all I could respond was "mhhmmm one more chapter…" I might've been tired the next day but man what a great book!!
So I guess I should actually review the book…Who else is made happy by some strong ass female heroines in YA books????!!! Raise your hands!!!
Yeva is definitly one of those characters, and boy am I happy with her character.  While this book is based off Beauty and the Beast it does take it's own little spin, which made it completely refreshing.  In the beginning you can see how Yeva is struggling with becoming accustomed to living in town and becoming a proper young lady.  However she is doing this for her family, she wants more for her family.  Her sisters need to meet proper gentleman so that they can be married off into better homes.  Her father has established himself here to make a better life for them.  Then things take a turn for the worse and they find themselves heading back into the wilderness and roughing it.  While things are rough for her family Yeva is finally happy in the wilderness where she feels like she belongs, hunting and not in those fussy gowns.  Until her father is lost and she must go hunt the beast that she thinks has taken him.
Okay so Yeva as a character was AMAZING while she is sort of molded of Beauty from Beauty and the Beast, I think she has a ton of princesses mixed in.  She is so brave, brilliant, strong, and beautiful.  Everything a true princess/hero should be.  Her character constantly evolved in the book which was so good, because she was always up against a new challenge a new adventure.  I thought that her sense of integrity was great, she always stayed true to everything she said.  There was no insta-love in this book either (thank the heavens).  Seeing her adapt to any new surroundings to become a stronger woman to face what she had to, to get to the next point in time was great.  I loved how she would say well I'm here … nothing I can change about that what I can do to get out this situation.  She actually reminded me more of a Merida than a Beauty but that is okay!  I love Merida too!! Oh and can we talk about the fact that she shoots a bow?? We need more characters to shoot bows and arrows because I do and I love this!  Heck we just need more female characters that don't have to rely on male characters to save them!
The Beast…I love how in the beginning the only hints of what his character depth really is like, is from a journal. The Beast in this book seems profoundly more complex than any other Beast retelling I have found.  I really enjoyed how Meagan Spooner molded the Beast from something truly inhuman to something remotely human, back to something not even close to human. How the Beast only had a one track mind in the beginning of the book but after he had interaction with Yeva that track seemed to wane and he considered that his path may not be so straight forward as he first thought. I'm trying so hard to explain with no spoilers!
I go into every fairytale retelling with a lot of apprehension because I don't feel that they will live up to all the hype.   Most of the time they are a flop, especially if they stop outside of the box and fail.   However, this one was a giant win for me! Meagen Spooner wove Russian fairy tales into a Beauty and Beast retelling!! How the heck did she even do that??  Needless to say I highly, highly suggest this book for anyone who likes fairy tale retellings or just likes a book with really strong female characters.