<Goodreads>      <Amazon>      <Barnes & Noble>
4 what a tangled web we weave stars!!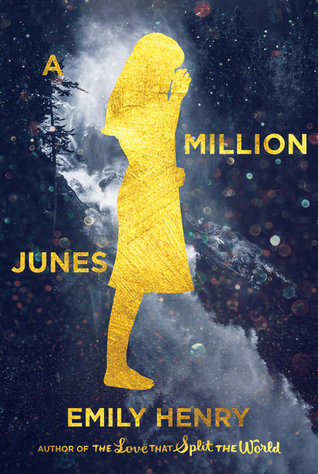 Hardcover, 350 pages
Published May 16th 2017 by Razorbill
For as long as Jack "June" O'Donnell has been alive, her parents have had only one rule: stay away from the Angert family. But when June collides—quite literally—with Saul Angert, sparks fly, and everything June has known is thrown into chaos.
Who exactly is this gruff, sarcastic, but seemingly harmless boy who has returned to their hometown of Five Fingers, Michigan, after three mysterious years away? And why has June—an O'Donnell to her core—never questioned her late father's deep hatred of the Angert family? After all, the O'Donnells and the Angerts may have mythic legacies, but for all the tall tales they weave, both founding families are tight-lipped about what caused the century-old rift between them.
As Saul and June's connection grows deeper, they find that the magic, ghosts, and coywolves of Five Fingers seem to be conspiring to reveal the truth about the harrowing curse that has plagued their bloodlines for generations. Now June must question everything she knows about her family and the father she adored, and she must decide whether it's finally time for her—and all the O'Donnells before her—to let go.…
It was time for another buddy read!! I think I'm reading more and faster now that we have started this… I love buddy reading with Danielle this is so much fun 😀  I really suggest you do it with your friends too!  #danielleisdabombdotcom  As usual we decided to do 5 questions to each other about the book and then post the review.  Also as usual Danielle's
review
is up before mine so you should definitly go check that out!!
My Questions to Danielle….
1.
Okay not going to lie.. I read like a thousand reviews after I finished this book and everyone keeps comparing June and Saul to Romeo and Juliet.  I uhm completely missed that in the book.  Did you get that vibe??? Star crossed lovers and all???
  It felt more Hatfield and McCoy's vibe to me.
I can see comparing it to the Hatfields and McCoys scenario with maybe slightly less hostility. I think it was the general idea divided rivalry amongst families with the added element of love that people are attributing to the Romeo and Juliet comparisons. I didn't walk away with those feelings but I guess I can see how some might. I have seen it labeled as a retelling and feel that is a stretch, but maybe it was?
2.
Do you think that Emily Henry weaved a solid story line or was it to all over the place for you?
I am trying to answer this without spoilers. I really did feel that her execution was splendid until the end. The last 25% of the story felt misplaced and disjointed. I am still coming to terms with the conclusion.
3.
I really enjoyed the thought of two people being there for each other in grief, even though they couldn't do anything for each other.  How did you take Saul and June's little saying to each other?? 
I appreciated the realistic approach they took with one another. It takes a deeper understanding and respect to be that honest and straightforward without feeling the need to offer someone false reassurances and comforts during difficult times. Too often people feel this obligation to say or do something when there is nothing that can really be done. Sometimes people just need to be and accept. That Saul and June were able to acknowledge this states a lot about them as individuals.
4.
Was there a specific part of the book that you really enjoyed or did not enjoy??
I don't know that I had a favorite part exactly. I enjoyed the encounters with the whites and the revelations of their family histories. Henry's writing and ability to incorporate magical realism is incredible. It was such an atmospheric read for me.
5.
Were you able to connect with the characters? Or was it difficult for you?
They were credible enough and often relatable in terms of emotions and struggles. While there was the heavy element of spirits and magic, Henry maintained viable actions and reactions with the characters that made it easy to connect with them.
 Danielle's questions to me…
1.

       
If you had to describe A Million Junes in 3 words, which would you choose?
Unexpected, romance, besties
2. There is a lot happening within this plot that is centered around something much larger than Saul and June. Did you take a particular message or meaning away from the story? 
This is going to be so hard to do without spoiling the whole thing.. but in the words of Frozen… "Let it go… Let it go!!!!"  You just gotta let all that old crap go. You will be better for it. (much easier said than done btw)
3.

How would you describe Henry's writing and character depiction?
I felt a real connection to her writing for the most part which is a very good thing for me.  I loved her character depiction, I love knowing a lot about the characters, it helps me build the world better. Although I always miss something and end up making the character look how I want so sometimes it doesn't matter.  However I think she did an amazing job!
4. About that ending, can you sum up how it felt for you without divulging spoilers?  I feel it was a bit rushed but definitely resolved.  I feel towards the end of the book she wanted to put so much more into it like she had 8000 ideas and only 100 pages. 
5.

Would you read more by Henry and who would you be most likely to recommend this book to? 
I'm not sure if I would read more, it just didn't stick out to me as a must read more of this author, I did enjoy it I just didn't think it was a must have.  If I had to recommend it to someone, definitely a person who is into magical books with infinite possibilities. 
My final thoughts….
I really did enjoy this book as a whole, it had me entertained and enraptured from beginning to end. I enjoyed Saul's character I think the most even though I don't think we got to see him enough.  The romance was just enough but not over bearing, it was definitly a slow burn.  The friendships between all of the characters were really great.  I loved the support system between June and her BFF.  How it was a normal girlfriend system, no matter what they had each others backs.  Whether it be with the ghosts or boy problems they were always there for each other.
The only slight problem I had was with the last maybe 25% or so, she seemed to have about 800 great ideas she wanted to cram into the book.  However she only had 25% of the book left.  I think if she would've stuck with maybe 2 of the ideas instead of all of the rest it would've been a wee bit better.
So yes I would suggest this book … go out and buy away 😀