3.5 what kind of witch are you stars!!
<Goodreads>              <Amazon>             <Barnes and Noble>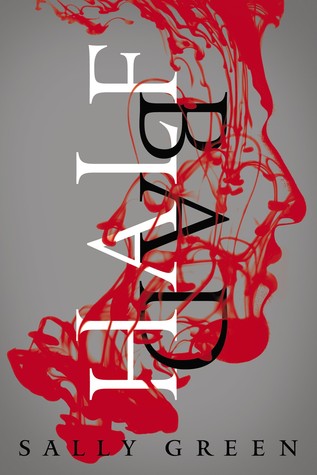 Hardcover, 394 pages
Published March 4th 2014 by Viking Books for Young Readers
Wanted by no one.
Hunted by everyone.
Sixteen-year-old Nathan lives in a cage: beaten, shackled, trained to kill. In a modern-day England where two warring factions of witches live amongst humans, Nathan is an abomination, the illegitimate son of the world's most terrifying and violent witch, Marcus. Nathan's only hope for survival is to escape his captors, track down Marcus, and receive the three gifts that will bring him into his own magical powers—before it's too late. But how can Nathan find his father when there is no one safe to trust, not even family, not even the girl he loves?
Half Bad is an international sensation and the start of a brilliant trilogy: a gripping tale of alienation and the indomitable will to survive
My thoughts…
Who doesn't love a book about witches?  I really enjoy books about witches, maybe it all started with my love of Hocus Pocus way back when…
This book follows a young man named Nathan. He is neither white witch or black witch, they call him half blood.  His mother was a white witch and his father is a black witch.  While growing up in a mostly very loving home Nathan is dealing with some very harsh realities of being a half blood.  Most white witches are not very welcoming of black witches and even though Nathan is young in the beginning of this book and terribly nice, the white witches tend to treat him horribly.
While the beginning did start off a little slowly for me, it does start to pick up once Nathan starts into his teenage years.  I realized later in the book you need those connections to his younger years to see him evolve more and more.  There are some really harsh realities that Nathan has to deal with in this book.  He isn't sure who can trust, I'm not even sure family can be trusted at this point.  Some parts of this books can be a little cliched the white witches against the black witches theme.  I liked how it wasn't at all how it seemed.
Nathan for the most part while being a loner really seems to make some unique friends, the more unique the friend the better I like them.  I also really enjoyed the magic system in this book.  It's not a bunch of waving wands a la de da your a frog.  Everyone has a different witchy ability.  Some help things grow, some people change shape, some people can sneak into places unseen, and some have yet to reveal themselves.  I don't think the first book was anything outstanding or anything quite amazing, I really did enjoy it and am excited to read the second book.
About the author…
Hi – I'm Sally Green. I'm the author of the real-world/ fantasy Half Bad Trilogy, which is made up of Half Bad, Half Wild and Half Lost. Most people read them in that order but there's always a few who don't. Many people who read them are teenagers but there's a lot who aren't.
I'm currently working on a new series called The Smoke Thieves, which is due to be published in spring 2018 and is definitely fantasy (there will be a map).
I said I'd never write another trilogy after Half Bad but it seems I lied.
I live in a village in north-west England.
There's some stuff about the Half Bad trilogy at www.halfbadworld.com.
Follow me on twitter@sa11eGreen