5 the storm is coming stars!!!
<Goodreads>                      <Amazon>                   <Barnes & Noble>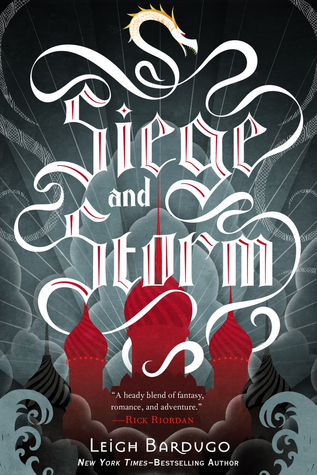 Hardcover, 435 pages
Published June 4th 2013 by Henry Holt and Company
Hunted across the True Sea, haunted by the lives she took on the Fold, Alina must try to make a life with Mal in an unfamiliar land. She finds starting new is not easy while keeping her identity as the Sun Summoner a secret. She can't outrun her past or her destiny for long.
The Darkling has emerged from the Shadow Fold with a terrifying new power and a dangerous plan that will test the very boundaries of the natural world. With the help of a notorious privateer, Alina returns to the country she abandoned, determined to fight the forces gathering against Ravka. But as her power grows, Alina slips deeper into the Darkling's game of forbidden magic, and farther away from Mal. Somehow, she will have to choose between her country, her power, and the love she always thought would guide her–or risk losing everything to the oncoming storm.
My Thoughts…
I thought for sure the second book would have some second book slump in there somewhere??  However I could not find it at all!  I know there is a whole following out there for the Darkling … and I'm probably going to ruffle some feathers with this comment but I honestly felt so bad for Mal in this book. He is hurting so bad, and yes he's being a total butt about it.  Let's look at it from his situation though, the woman of his heart is a goddess by all rights.  Who is connected to the Darkling, and being pursued by many men for her hand in marriage!!! I almost shed a tear or two over this fictional fighting relationship in this book.  Hopefully in the third book Mal will see the light and redeem himself.
Alina is holding no prisoners in this book!  She has evolved into such a stronger character than I would have thought capable from book one.  She has stepped up into the person she needs to become.  I was hoping for a little more answers on her powers instead of more questions but that's okay maybe in the next book?  I'm hoping so… Her evolution of becoming a Grisha power to be reckoned with is amazing.
New characters are always a favorite addition in new books… especially when done really well.  Let me say the addition of Sturmhond was genius, I simply adore that pirate/man.  I'm a big fan no matter where he ends up in the book as long as he ends up alive 😀
Are you into this series??  Do you read Leigh Bardugo books??
About the Author..
Leigh Bardugo is the #1 New York Times bestselling and USA Today bestselling author of the Six of Crows Duology and the Shadow and Bone Trilogy, as well as the upcoming Wonder Woman: Warbringer (Aug 2017) and The Language of Thorns (Sept 2017).
She was born in Jerusalem, grew up in Los Angeles, and graduated from Yale University. These days, she lives and writes in Hollywood where she can occasionally be heard singing with her band.