2 lacking character stars!!!
<Goodreads>                        <Amazon>                    <Barnes & Noble>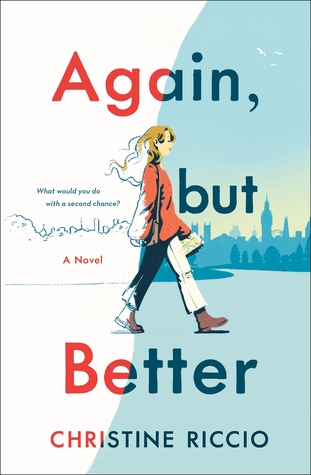 Hardcover, 384 pages
Expected publication: May 7th 2019 by Wednesday Books
Shane has been doing college all wrong. Pre-med, stellar grades, and happy parents…sounds ideal—but Shane's made zero friends, goes home every weekend, and romance…what's that?
Her life has been dorm, dining hall, class, repeat. Time's a ticking, and she needs a change—there's nothing like moving to a new country to really mix things up. Shane signs up for a semester abroad in London. She's going to right all her college mistakes: make friends, pursue boys, and find adventure!
Easier said than done. She is soon faced with the complicated realities of living outside her bubble, and when self-doubt sneaks in, her new life starts to fall apart.
Shane comes to find that, with the right amount of courage and determination one can conquer anything. Throw in some fate and a touch of magic—the possibilities are endless.
I was sooo excited to get an ARC of this book, because I was a huge fan of Christine Riccio's booktube channel.  Yet I should have known it's a debut book, and it had been really hyped so I shouldn't get my hopes up.  I did a buddy ready with Deanna @ ANovelGlimpse and we did chat quite a lot back and forth about this book.  However I will keep it to our questions and short mini review.
ANovelGlimpse Answer's 
1. What was your favorite thing about this book?
Oh, boy. This is a hard question to answer without giving too much away. The second half of the book was my favorite part of it. It's not because I loved it. There was just this period of truths that were important. Without those truths, I would have hated this book. Those truths were my favorite things about it. I guess I did have one other favorite thing. I loved the banter between Shane and Pilot. It was quirky, but cool.
2. Who of all the characters mentioned in the book was your favorite?
I honestly don't think I had a favorite character. There were a few small moments of liking certain ones. Atticus and Babe both seemed like good friends. They had that going for them. Pilot made some decisions early on that I ended up thinking were super smart, but will probably make other readers mad. Wait! Let's go with Shane's cousin, Leo. He can be my favorite. (Which says A LOT, if you end up reading this book.)
3. Cover love or no cover love?
I think the cover fits the book. It's unique. I wouldn't say it calls to me specifically, but I like it.
4. Did you find the character developed well throughout the book or were you left wanting more?
Oh, geez… Shane was a freaking mess. She was obsessive and self-centered. She was supposed to be like 19 or 20, but acted more like a 16 year old. Which, I have to stop now and mention that this book is categorized as YA/Teen. I'm thinking that's because the topics seem to be pretty juvenile at first. I don't know that I agree with this, though. The characters are college age, so it should be NA. It doesn't feel or read like a NA book, though. I would probably just throw it in the general fiction category. It's doesn't even read like a true contemporary romance.
Anyways… Back to the actual question. Shane let a possible relationship with a guy take over her life in only the way a teenager can, but it was super weird because there wasn't much to build that obsession on. She basically decided to make him her life after minutes of meeting him. I didn't like Shane and honestly didn't care if she got the guy or not. Well, actually, I didn't want her to get him. I just wanted to give her a good shake and tell her figure her stuff out. It wasn't until almost the end of the book that I felt Shane's character truly developed. Something gave her that shake I wanted to, and then I found myself saying, "FINALLY!"
So… Yes, there was character development. It came in fits and spurts. I think I was happy with it at the end. Honestly, I didn't find myself wanting more at the end. I was just happy it was over. Brutal, I know. Sorry.
5. Would you attempt another book by this author, seeing as it was her debut book?
That's a tough question. I want to say yes, that I would give this author another chance because it was her first novel and I didn't think the writing was horrible or anything. The reality is that I probably wouldn't unless the blurb was something I felt incredibly drawn to or I read reviews by trusted blogger friends that said it was a must read.
This plot had so much going for it, a girl stepping out of her comfort zone.  A new situation making the best out of a new her.   A surprise half way through… then the crazy writing and lack of connection killed it.  Maybe it was the hype and the fact that I was so excited to read it?  Or maybe it's because it's a debut book?
My answers…
1. What was your favorite thing about this book?
I don't think I had a real favorite part of the book, maybe favorite parts… I liked the second half because in some spots I had thought the characters had grown.  However in other circumstances they didn't.
2. Who of all the characters mentioned in the book was your favorite?
Leo was my favorite which is super sad because he is rarely mentioned at all in this book. It just goes to show how lacking the character depth was in this book.  OMG after getting your answers I realized we picked the same character!! HAAHHA
3. Cover love or no cover love?
I do not think this cover would make me pick it up in a store and go "oohhh ahhh I need to buy it now"  However it is pleasing to the eye.
4. Did you find the character developed well throughout the book or were you left wanting more?
NOPE not a single character developed at all throughout this series.  I wanted so much more from someone who has read books all their life.  You know character development is critical to getting someone to enjoy a book however they were to have aged 6 years and still acted like a teenager? That didn't make sense to me at all.
5. Would you attempt another book by this author, seeing as it was her debut book?
Yes I almost always give an author a second chance.  This plot had a lot going for it, it however lacked follow through and development.
Mini Review
If you have every followed Christine Riccio's booktube channel then you will instantly recognize the main character Shane is Christine.  There is no other way around it; she wrote what she knew which is fine.  However she kind of took it over the top in my mind, Shane has a blog FrenchWatermelon19 because they are two things she likes sounds familiar because Christine's channel is Polandbananasbooks19 .  The characters awkwardness which is supposed to be endearing and could be except in the beginning was played off as an anxiety problem?  You have to follow one or the other and if you are going to do something as important as anxiety/depression/etc actually do it justice.  Shane was almost stalker like at some points.  In the second half of the book while she sort of got it together for a couple chapters she was still acting pretty off her rocker.
Pilot Penn, if you are going to give him such a great name please give him some great character.  At some points during this book I thoroughly enjoyed this character.  However at most points I actually kind of hated him for most of his actions.  For some odd reason this young man doesn't find it odd that he was stalked.  He was just the mediocre normal teenage boy whom everyone falls in love with but really isn't that great in the beginning and screws up close to the end….
I needed more, I wanted more, I expected more.  It's her debut book so maybe, just maybe I'll try her next book.
Thank you to NetGalley and Wednesday Books for an ARC in lieu of a honest review.
About the Author..
Christine Riccio has been on a quest to encourage more humans to read since the third grade. No one really listened until she started making videos about books on Youtube in 2010. Now her channel PolandbananasBOOKS has over 390,000 book-loving subscribers. She makes comedic book reviews, vlogs, sketches, and writing videos chronicling the creation of her own novel. She's also one of the three YouTubers behind BOOKSPLOSION. Originally from New Jersey, Christine graduated from Boston University in 2012 with a degree in Film and TV and now lives in Los Angeles, CA. Other hobbies include hot yoga and oatmeal.