5 the conspiracy runs deep stars!!
<Amazon>                   <Goodreads>              <Barnes & Noble>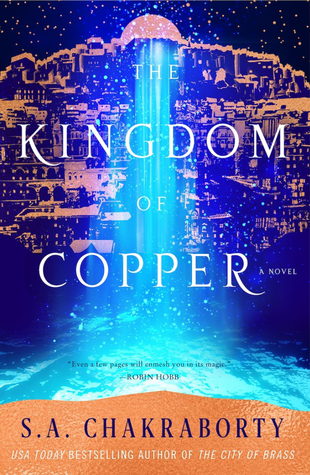 Hardcover, 621 pages
Published January 22nd 2019 by Harper Voyager (first published January 8th 2019)
A. Chakraborty continues the sweeping adventure begun in The City of Brassconjuring a world where djinn summon flames with the snap of a finger and waters run deep with old magic; where blood can be dangerous as any spell, and a clever con artist from Cairo will alter the fate of a kingdom.
Nahri's life changed forever the moment she accidentally summoned Dara, a formidable, mysterious djinn, during one of her schemes. Whisked from her home in Cairo, she was thrust into the dazzling royal court of Daevabad—and quickly discovered she would need all her grifter instincts to survive there.
Now, with Daevabad entrenched in the dark aftermath of a devastating battle, Nahri must forge a new path for herself. But even as she embraces her heritage and the power it holds, she knows she's been trapped in a gilded cage, watched by a king who rules from the throne that once belonged to her family—and one misstep will doom her tribe..
Meanwhile, Ali has been exiled for daring to defy his father. Hunted by assassins, adrift on the unforgiving copper sands of his ancestral land, he is forced to rely on the frightening abilities the marid—the unpredictable water spirits—have gifted him. But in doing so, he threatens to unearth a terrible secret his family has long kept buried.
And as a new century approaches and the djinn gather within Daevabad's towering brass walls for celebrations, a threat brews unseen in the desolate north. It's a force that would bring a storm of fire straight to the city's gates . . . and one that seeks the aid of a warrior trapped between worlds, torn between a violent duty he can never escape and a peace he fears he will never deserve.
My Review…
While I should be used to the cliff hanger endings from the first book in this series… I was not at all prepared for that ending.  I am super upset that I have to wait for the next book but am so in love with this author's writing and world building that it is worth the wait.
This review will be so hard to write without spoilers so maybe I will just let you know that there was so much character development it was amazing. This book ages everyone 5 years, that is a long time and gives everyone ample time to grow and mature.  Especially under an evil tyrant ruler, who likes to torture everyone including his own children. Nahri still continues to beat all odds against everything thrown at her.  She is an amazing character, Nahri has been coming into her powers more and more.  She doesn't seem to take crap from anyone and continuously outwits everyone around her.  I really enjoyed her growing relationships with Jamshid and Zaynab.
Okay we get story arc's from Dara and Ali too and I thoroughly enjoyed both.  I liked to see what was shaping both of these men.  Obviously, both are devoted to creating a better future and to Nahri even though both have done wrong by her.  Seeing their side of the story and what has happened and is happening right now really added to their stories.  I feel further in love with Ali, I know everyone is shipping Dara and Nahri.  Honestly, I just want Ali to be happy dang it.
One person I didn't expect to like at all or even care about but ended up shedding tears for that's right tears…  was Muntadhir he also really grew as a character in this book which really shocked me.  I kind of hoped we would've had a couple chapters from his perspective.
I cannot get enough of these books or this author, she will forever be an auto buy for me.  The third book will be pre-ordered as soon as I can do it.
About the Author…
S. A. Chakraborty is a speculative fiction writer from New York City. Her debut, The City of Brass, was the first book in The Daevabad Trilogy and has been short-listed for the Locus, British Fantasy and World Fantasy awards. When not buried in books about Mughal miniatures and Abbasid political intrigue, she enjoys hiking, knitting, and recreating unnecessarily complicated medieval meals for her family. You can find her online at www.sachakraborty.com or on Twitter at @SAChakrabooks where she likes to talk about history, politics, and Islamic art.