4 an emotionally charged roller coaster stars!!
Kindle Edition
Expected publication: April 17th 2020 by EKT Selection Ltd
An emotionally charged and captivating novel about the complexities of female friendship and motherhood.
Lizzie Thomson has landed her first job as a music teacher, and after a whirlwind romance with Markus, the newlywed couple move into a beautiful new home in the outskirts of Edinburgh. Lizzie quickly befriends their neighbour Morag, an elderly, resourceful yet lonely widow, who's own children rarely visit her. Everything seems perfect in Lizzie's life until she finds out she is pregnant and her relationship with both Morag and Markus change beyond her control.
Can Lizzie really trust Morag and why is Markus keeping secrets from her?
In 'The Memories We Bury' the author explores the dangerous bonds we can create with strangers and how past memories can cast long shadows over the present.
My Review…
How much of our past defines our future and molds us into who we are as human beings?  Do we always gravitate towards the same people in life?  Givers, takers, controllers?   Or can we somehow break the mold and decide for ourselves.  This book takes a look at how not only Lizzie's past affects her future choices, but Morag's past defines who she is.
This author is so good at weaving a web of curiosity and lies, you never quite know who is lying and who is telling the truth.  Everyone in the beginning comes off as a good person, and slowly you learn everyone's back story bit by bit.  Of course, as the reader about ¾ of the way through the book you start to see some real devious plots come about with some people and you just sit back and think do people really do this?  Lizzie was such an amazing character to get to know, she had such a traumatic past, but of course that was part of the story learning about her past.  I do like how towards the end of the book we get to speaking about therapy and taking care of oneself.  That is important to me, when an author delves into the topics that H.A does you should see an outcome, what is the follow up with the character etc.  The books that this author writes are intense to me and hard to put down because I just need to know what is going to happen, and how we get there.
I really enjoy this author's writing style, and it does flow from character POV to character POV. She is so good at setting up stories that just suck you right in, you need to know how everything is going to play out.  I haven't been let down by this author and would highly recommend her books.  I didn't delve to much into the plot of this book because I didn't want to spoil anything for anyone it's best just to go in blank and never look back.
Thank you to H.A. Leuschel for a copy in lieu of my honest review.
About the Author..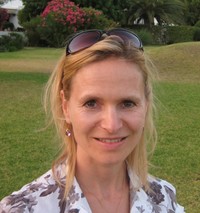 Helene grew up in Belgium where she gained a Master in Journalism & Communication, which led to a career in radio and television in Brussels, London and Edinburgh.
She now lives with her husband and two children in Portugal and recently acquired a Master of Philosophy with the OU, deepening her passion for the study of the mind.