3 Cursed mates with cursed fates stars!!
Vampires aren't real, right?
People say I'm a weirdo. Sure, my idea of a party is a mini box of wine and hanging out with a feral raccoon, but it works for me.
When I'm accused of murder, things get crazy. One, I learn that I have magic. Two, there's a secret magical city hidden right in London itself. And three, my only hope is a vampire who's sexy as sin and scary as the devil himself. He's called the Devil of Darkvale, and he all but owns Guild City.
Some say I should just quit and turn myself in. Not a chance. I'm going to solve this murder myself, which means surviving in a new world of witch parties, magical guilds, and a vampire with a tortured past. The vampire and I are like colliding stars, and the heat is irresistible. I should avoid him, but if I want to save my own life, he's my only hope
My Review…
Okay this is one of those books where you can flat out see the flaws right in your face but for some odd reason still want to read. I blame it on the corky female characters. It totally has insta love so if you hate that you may not like this. I'm not over the moon about it, actually I don't even really like the main love interest I kind of like the male bartender who we have barely met but meh beggars can't be choosers.
The world building is decent but not over the top and the storyline moves at a pretty rapid pace which was fine by me because I was looking for something fast paced. I really like the main character Carrow she had a spunky demeanor and didn't mind sticking up for what's right. Although I do thinks she trusts a little to easy.
I'm kind of hoping we get more in depth character development and background stories in book two… which I will be definitely reading.
About the author…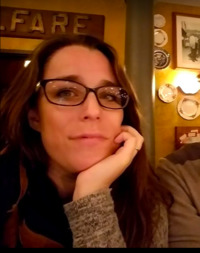 Before becoming a writer, Linsey was an archaeologist who studied shipwrecks in all kinds of water, from the tropics to muddy rivers (and she has a distinct preference for one over the other). After a decade of tromping around in search of old bits of stuff, she settled down to start penning her own adventure novels and is freaking delighted that people seem to like them. Since life is better with a little (or a lot of) magic, she writes urban fantasy and paranormal romance.