5 no splatting required to enjoy stars!!!
<Goodreads>           <Amazon>           <Barnes & Noble>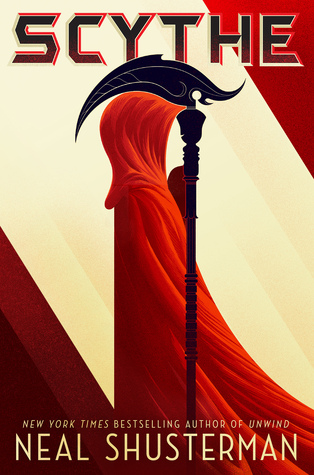 Thou shalt kill.
A world with no hunger, no disease, no war, no misery. Humanity has conquered all those things, and has even conquered death. Now scythes are the only ones who can end life—and they are commanded to do so, in order to keep the size of the population under control.
Citra and Rowan are chosen to apprentice to a scythe—a role that neither wants. These teens must master the "art" of taking life, knowing that the consequence of failure could mean losing their own
BUDDY READ!!!!!!!!
Buddy reads are my favorite kind of reads, because while you are reading you can ask… "Did you get to that part yet???"  and then say "Can you believe that happened???"  As per usual I made Danielle at Books, Vertigo & Tea read Scythe with me and thank goodness she liked it 😀 We did it in our usual 5 question and answer style.  Hopefully you like our review!!
My Questions to Danielle….
How do you feel about the aging process in the book?
Without exploring too much of the book (for those who have not read it), I found the aging and renewal process to be crucial in Scythe. The plot relies heavily on these elements to emphasize the need for and importance of Scythes and gleaning. I felt the author utilized this all brilliantly to provide a since of justification and dare I say, respect for the difficult task of Scythes. The significance of their role was solidified by these elements. I could not imagine it having been presented any other way.
Further in the book when we get to meet more Scythes, which would you choose to be paired with if you were in training?
This is a difficult question. I am almost torn between Scythe Faraday and Scythe Curie. Curie is wise with her age and experience. Her history as a Scythe would certainly provide a lot of value during training. However, I think ultimately, I would still choose Faraday. His character just resonates with honesty and sincerity. I never found myself questioning his intentions or methods.
Did you feel the main two characters developed well throughout the book?  Or would you have liked to see them grow more?

I found the character development to be surprising rewarding in Scythe. Citra and Rowan are both faced with the most difficult task of their lives and each handle this in very individual ways. The plot fostered a ton of growth and character depth, which is hard not to appreciate. I am excited to see how the sequel unfolds.
The thing I noticed most about this book is there is little romance, did you find that added or took away from the book?
I actually appreciated the lack of love story within Scythe. I feel that the main story-line would have suffered if Shusterman has attempted to squeeze in a romantic element that was more than the existing interest noted among certain characters. It was refreshing to read a book that did not have an underlying love theme. So in this case, it was certainly a benefit.
Cover love? Not so Cover love?? 
COVER LOVE! ❤
Danielle's Questions to Me… 
1. One of the very first things that stood out to me in Scythe was the use of the term "gleaning".
They never refer to the process of taking lives as killing. Why do you think this is important?
To them I don't think the Scythe's think of it as taking a life, they think more as a statistical way. They don't kill they take a life or glean so more people can live.
2. Did you feel that given the setting in the story that the job of a Scythe was a necessary or crucial one to be respected?
For the setting of the story it seems crucial, however as a person in this world it seems crazy to me.  I think they do need to be respected however there is a difference between respect and lifting them to a higher power.
3. How did you feel about relationship between Citra and Rowan? How did this affect your experience as a reader?
I was so torn about their relationship; they were and were not friends.  I enjoyed it very much, both Citra and Rowan were very complex characters that needed to develop throughout the book and did very much.
4. Without spoilers, be truthful, who were you rooting for? Or were you torn between the two young protagonist?
Okay so I was torn, in the beginning it was totally Rowan, then in towards the end it was Citra.  That's all I can say without spoilers!
5. For myself this was a somewhat dark read that still managed to feel light and enjoyable at times. How would you describe Shusterman's writing in this specific title?
This book definitely is a dark read.. but has such hidden light elements you wouldn't even know you read them until you were chuckling to yourself. There were some moments that really struck a cord with me the "aha" moment that relate to your life were really good.
My Personal Thoughts… 
I so enjoyed Scythe, it was a really unexpected turn of events for a dystopian read. This setting isn't a normal dystopian setting.  Of course there is a boy and a girl, but there is no insta- love, there is no love conquers all.   There are Scythes who are given the task of keeping order in the world by "gleaning" the chosen so that the rest may live.   Being a Scythe is not for the weak of heart, both Rowan and Citra find this out the hard way.  Along the way they find out some other choice things about the career that may lay ahead of one of them.
I loved how the world was set up, the character development was spot on.  Every single character needed to development not just the main two, but so many more in order for the the main two to evolve. There were a couple of light bulb moments for me as well as a couple of I can't believe I'm laughing out loud at this moments.  Neal Shusterman just plucked this idea from the sky and made it into such a real thing is amazing.  I can't wait to see how the characters evolve in book two.
Award-winning author Neal Shusterman grew up in Brooklyn, New York, where he began writing at an early age. After spending his junior and senior years of high school at the American School of Mexico City, Neal went on to UC Irvine, where he made his mark on the UCI swim team, and wrote a successful humor column. Within a year of graduating, he had his first book deal, and was hired to write a movie script.
In the years since, Neal has made his mark as a successful novelist, screenwriter, and television writer. As a full-time writer, he claims to be his own hardest task-master, always at work creating new stories to tell. His books have received many awards from organizations such as the International Reading Association, and the American Library Association, as well as garnering a myriad of state and local awards across the country. Neal's talents range from film directing (two short films he directed won him the coveted CINE Golden Eagle Awards) to writing music and stage plays – including book and lyrical contributions to "American Twistory," which is currently playing in Boston. He has even tried his hand at creating Games, having developed three successful "How to Host a Mystery" game for teens, as well as seven "How to Host a Murder" games.
As a screen and TV writer, Neal has written for the "Goosebumps" and "Animorphs" TV series, and wrote the Disney Channel Original Movie "Pixel Perfect". Currently Neal is adapting his novel Everlost as a feature film for Universal Studios.
Wherever Neal goes, he quickly earns a reputation as a storyteller and dynamic speaker. Much of his fiction is traceable back to stories he tells to large audiences of children and teenagers — such as his novel The Eyes of Kid Midas. As a speaker, Neal is in constant demand at schools and conferences. Degrees in both psychology and drama give Neal a unique approach to writing. Neal's novels always deal with topics that appeal to adults as well as teens, weaving true-to-life characters into sensitive and riveting issues, and binding it all together with a unique and entertaining sense of humor.