5 ugly crying stars!!
Paperback, 293 pages
Published February 2nd 2019 by Dream Waters Publishing
A story about the purpose of life, the healing power of fandom, and the resilience of the human spirit.
Tormented by the in-crowd at school on a daily basis, there were two things that gave fifteen-year-old Abigail Perkins the strength to keep going—her best friend, Danny Cobb; and her favorite television show, Supernatural. But the night Danny's mother calls to say that his battle with cancer is nearing its end, and the doctors don't expect him to live through the night, even Supernatural can't dull the ache in her heart.
Devastated by her impending loss and crushed that Danny's mother won't allow her to visit him one last time, Abigail crawls into bed and cries herself to sleep that night; and she wakes to find Supernatural's most endearing angel standing at the foot of her bed.
Told from Abigail's perspective as she nears the end of her long life and revisits the moments that defined it, this story was inspired by the deep connection that Supernatural fans feel with the show's beloved characters, and the show's miraculous ability to help its fans through troubled times.
100% of the net proceeds from this book will go to Random Acts charitable organization.
Random Acts inspires many amazing things around the world every day — from small acts of kindness, such as inspiring someone to buy a stranger a cup of coffee, to much bigger acts of kindness like building a school in San Juan del Sur, Nicaragua.To learn more about Random Acts visit randomacts.org
My Review….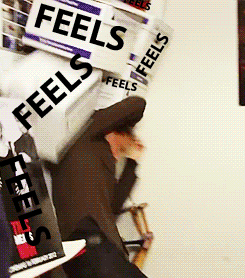 It's hard to write a review for a book that had you ugly crying within the first two chapters. I have previously devoured the first three books in Erin A. Jensen's Dream Water series so when she approached me about reading something of hers that was different, a book that all the proceeds go to charity, how could I say no?
This book has a lot of basis back to the show Supernatural, I for one have never seen the show at all and did not feel left out at all.  There is also a pretty kick butt playlist to go along with this book if you would like to add it to your handheld device 😀
We start this book toward the end of Abigal's life and drift back toward the beginning as she remembers the first time she met Castiel. As she relies on the normal habits of watching her favorite show to get her through some of the toughest times of her life.   Abigal's life was no picnic that's for sure…remember when I first said that I cried in the first two chapters? I really don't want to give away too much of her life because that is the journey of the book, but it was so interesting to see how each choice, each step could've lead her down a different path.  Then she wouldn't have met so and so, or done this.  It's kind of amazing and makes you take such a deeper look into your own life.
"I'm afraid I am not privy to the Lord's entire plan," he replied with an apologetic frown. "All I can tell you for certain, is that. He put you on this earth for a reason. You should never doubt the light within you because others are to blind to see it."
I love Erin's writing both in her Dream Water's series and this book.  The writing just flows for me, and I can never put her books down.  I need to know what happens next, what is on the next page.
Like I said all of the proceeds from buying this book will go to the charity Random Acts, you can learn more about this organization by going to Randomacts.org
About the Author…
Erin Jensen is the Amazon International bestselling author of The Dream Waters Series. She was awarded the Bronze Medal for fantasy fiction in the 2018 Readers' Favorite international book award competition. She also received Honorable Mention for fantasy fiction in the 2018 Writer's Digest self-published e-book awards.
A part-time pharmacist and a full-time creator of imaginary worlds, Erin lives in upstate New York with her ridiculously supportive husband, two teenage sons (who are both taller than her) and a Yorkshire terrier who believes he's the family bodyguard. Early on in her writing career, Erin vowed to get a dragon tattoo once she reached a certain milestone number of reviews. She no longer divulges that number for fear that she'll actually reach her goal and have no choice but to go through with it. If you'd like to make that happen, leave a review on Goodreads and wherever you purchased her books and she'll be sure to share pictures of her celebratory ink on social media.
Erin is a sucker for any book that draws you into its world, makes you feel for its characters and keeps you thinking about it long after you've turned the last page.
After finishing a particularly gripping series several years back—and mourning the loss of its presence in her life—she decided to create a fictional world of her own. Now, nothing thrills her more than hearing from a reader who loves her books and feels for her characters as much as she does.